Not Interrupting: Interpreting. In Praise of Hattori Junko.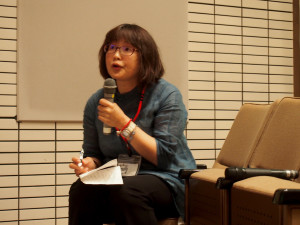 Some people are voice activated. My dad's mom was. It was impossible to talk with her on the phone because as soon as you began speaking, she spoke over you. From the moment I met her in Hiroshima, my interpreter Junko Hattori did this, and nearly got a ribbing from me more than once until I woke up to what she was doing…and just how amazingly well. I came to Hiroshima Japan last week to present a slideshow about Rocket Mass Heaters at a festival called "I Am Stove! Hiroshima" for wood burning enthusiasts (and generally make friends, celebrate DIY stuff and peace and activism and no-nukes, etc). Junko-san was to be my guide and translator. A go-between for me and the event's organizers, the public, and the other presenters (one from Korea). She arranged all transpo, fun side trips, lodgings… But so much more, she was like the best service dog, reading my moods and guaging my needs to be informed vs. be left alone to take it all in. She made me laugh, sparked interesting conversations, and–having translated the book Rocket Mass Heaters into Japanese– she knew her way around wood combustion and heat transfer. She could talk about it easily and understood my audiences. At this event in Hiroshima, I was to give a slide show and field questions, then sit on a panel, and play my fiddle at the parties.
We'd be in a circle of Japanese speakers, plus a Korean and his Japanese-Korean interpreter as well. They were Seong-wan Kim, and Ohio . As soon as someone began to speak, there was Junko-san in my ear, sometimes tapping me on the shoulder to get my attention. Several times, I nearly stopped her to tell her not to interrupt…Until I got used to the fact that she was not interrupting, but interpreting. For every conversation that happened within our group–us, our hosts, and various friends–she carried on the conversation itself in both languages as well as one with me. Sometimes all three languages, with the Korean interpreter chiming in for Junko-san. We had very rich conversations, too, we weren't complaining about boyfriends or the price of gas. It was deep shit. Well, duh.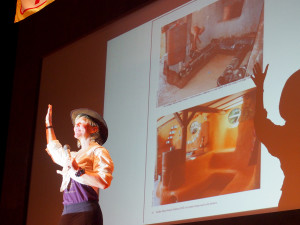 Performing a slideshow for an hour-and-a half with my wing-woman at the stage's edge was scary and exhillerating …. We actually practiced this ahead of time in the performance hall of the Jimmy Carter Center in Konu Town where the event happened. I neither wanted to leave her hanging on half-a-thought, nor feed her too much to have to remember, so I focused on brevity and complete thoughts, and quickly noticed she was talking a lot more than I was, and it turned out she was filling in the gaps around my brevity with her own knowledge, based on what she knew the audience might need. Who knows what she said, but people were pleased, and bilingual folks tell me she did me right.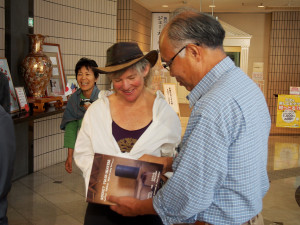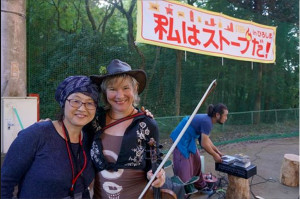 Junko-san was so much more, though. I whispered to her on arriving at our first hosts' place that I needed prompting on a lot of the politenesses/customs because we are wild animals in the USA. I would make many mistakes and would need her help. How many times she would see me looking for the words and whisper in my ear, "Arigato gozaimas." (thank you). Or prompt me with something helpful. She instructed me that first night on taking a bath, showing me how the shower worked, and once you are completly clean from showering, you can get in the hot bath (which was already drawn, which the rest of the family would use after I did. It was covered with a thermal roll-top cover). She said it may be too hot for you, though. I thought nothing of it, I'm tough and can handle it, I'm sure. But I could not handle it, and wondered how in the world they did, and emerged from the bathroom having steamed off the top layers of skin up to my knees, which was the farthest I could get into that stainless steel tub.
That first night, we spent a quiet sleep on tatami mats in separate rooms across a hall from each other, separated by shoji screens. Their windows and interior walls and doors are all made of the same stuff: paper screens framed out in wood. Beds were thin futons I jokingly called two-ply paper towels, but they were of course more comforatble than that, yet far less cush than we are accustomed to. The pillow was a bag of some seeds, or rice hulls. In the morning she showed me how to fold my futon and bedding and stow them in a neat pile. The beautiful subtlety in their architecture knocked me out. I gaped, astounded and turned on at every view.
Every day, Junko-san gave me gifts, but having been to Japan before, (I came with the Mermen in 1991 for a tour), I was ready for her, and armed with several things like Oaklandish tee-shirts and stickers. Our generosity-fest was a delight, but she of course won hands-down.
I grew to not just depend on her but I grew fond of her as well. Bringing everyone's content to me–bringing me the conversations but also the happenings, customs, the plan, anticipating my needs and reading my moods (of which you know there are many), sometimes in three languages, Korean, of which she is proficient, Japanese, and English!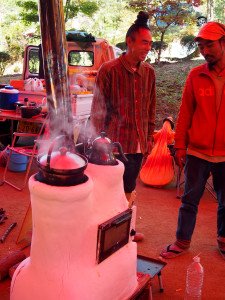 She is the very embodiment of the movement for peace that began in Hiroshima right away after the A-bomb broke everyone's hearts. They are the dying and living example that peace is the only way to go. The culture around this small but growing group of "Alternative Japanese" celebrates a culture of peace through appropriate technology, fun, home grown food, inventiveness, open source sharing, and throwing festivals like "I Am Stove" and worksops to spread the word. I'll share more about my week in Hiroshima in 'blogs to come, as I was really touched by being there and don't want to forget it anytime soon. Since they translated Rocket Mass Heaters into Japanese 7 years ago or so, Friends of Earth and Fire have felt like true friends, and now more like family. Part of me stayed back there, learning some manners, eating pickles and slurping noodles.
–In flights en route to the Natural Building Colloquium Twenty-Year Reunion, Kingston NM, October 19, 2015.
be is for bicycle
Amsterdam and Copenhagen are both my kind of fish tanks. Watch any street, day or night, and you get a bicycle-and-foottraffic show like the best variety pack aquarium. Goldfish, clownfish, mollusks, shellfish, sharks, eels, and bottom feeders, all moving at their native pace; collision-free. Parents with little kids mounted fore and aft, women with big mops of blonde hair piled, atop their heads*, people talking on their phones, people talking to each other, riding astride in the bike lane, jamming at speed, utterly relaxed, talking; intense boxers in training suits; school boys with perfect haircuts and tidy backpacks, every strap neatly fastened; women in mini-skirts; a rider leading an empty bike beside her; men in suits, women in heels; sensibly dressed office workers with laptop bags. Dogs in the front basket; tourists wreaking havok. All upright steelframes. Heavy and black. Occasionally a spandex-clad athlete, lean and hairless, tightlipped and selfishly guarding his Zone. Then all goes quiet for a moment. And all starts up again as quickly, perfect harmony again. No helmets. I'm in the fishtank too, another seacreature of the city, finally regarded as a person rather than gaped at under unemotional eyes, as in the country. Clopping smartly in my cowboy boots in the walklane (not the bikelane, it's no way to die, people). A lot of riders spin around in their saddles and look at me as they pass (it's the pretentious leather hat), and I get the look: nice ass…oh, you're old. I smile back. Yeah I saw you looking. I'm getting old, and so are you.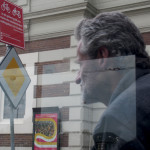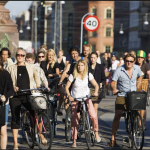 What I wanted to do more than anything once I got to Copenhagen was ride down the bike-path astride another, in lock step pedaling. But alas, I learned it's like dancing with someone: Easy, but time cooks it just right. You can't just come and have that pleasure from a cold start. So I rode and rode anyway. I followed people when I wasn't sure what to do with the traffic circle: Choose a leader and do what they do until they either stop in front of their Rococo building and put the kickstand up, lock it and walk inside as if it will be safe all night there (it will, and if it falls over in the wind, will be propped back up without damage). I treat my road bike like the stylus of a needle, how much more pleasurable to use a bike for transportation.
Following strangers has been a traveling favorite for me: If you don't know where to go or what train to ride in a big city: Go on a tour with someone who doesn't know they are taking you. As a woman, it's a little easier that as a man, I think. I was never confronted, nor regarded beyond the usual stares. The fun continues as I trace my steps back to the beginning, alone, after they have either lost me, lost my interest, or walked into their building. I saw a lot of Copenhagen this way, as well as learning the traffic standards.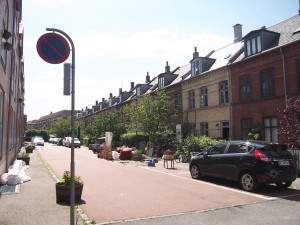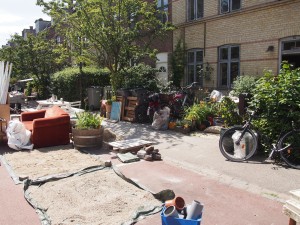 In my favorite cycling moment, I was returning to my hosts' place from Bente's house: the site of a workshop, and my slideshow. I do not travel with a "GPS-er" and love writing down all the directions on paper ahead of time, and folding that into an accessible pocket, so as I ride I can refer to it, provided it doesn't blow out of my hand in the wind. I had found my way to Bente's street–a little remote, a new neighborhood to me, using this method, and as I approached I was so happy to see how well-marked her property was by the archetypal urban natural building scene: A few tarps piled with sand and clay; and where cars would be parallel-parked on the curb, a couch, umbrella, and pic-nic table for the workshop participants.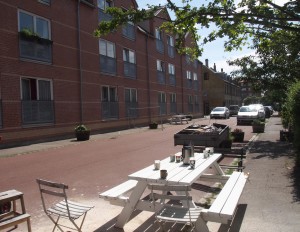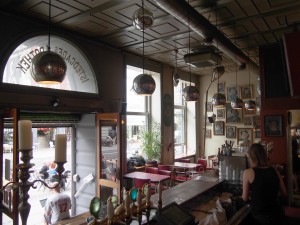 After my visit there, I followed another set of directions on a crumpled piece of scratch-paper to the cafe of Rassmus, a friend of my hosts. It used to be a pharmacy, and for a LONG time. It's a beautiful historical land-mark and Rassmuss's cafe celebrates it well with crowds all of the time, an excellent chef kicks out good food, and I was to sip coffee and journal to some Bill Withers. As I approached the sidewalk on my trusty steel steed, there was Rassmuss, moving fast at his business. I popped the front tire onto the curb all insoussiance and set the bike in a rack and engaged the kickstand and had a charming chat and he went in ahead of me to tell the barista to make me his favorite coffee on the house.

I left there to hit rush-hour traffic this time with no directions but some idea of my hosts' place from there, but as I rode past the Dome of Visions along the water, it began to rain, and it being summer and I being an optimist (read naïve) I had to get out of the rain or pedal faster, and went onto the approach of a bridge, and heard live bluegrass. So I found it and pulled over and it was a quartet under a sagging tarp huddled over a single mic, and there was Paul Banks, whose kids were in the band and he was playing a little mandolin. He remembered my name from the blues joint Mojo Bar where I heard him play, and I hung out until it stopped raining and they stopped playing, wishing I had a two-stepping partner along.


It doesn't hurt that the place is flat. When a young woman is coming into her curves, we'd tease that they had bee-stings. This place has a few rises, but nothing that takes your breath, no excuses not to hop on and nothing seems to stop folks from using their bikes except having a big load to haul. Even the less-capable people use bikes with some electrical assist before giving up their right to sling a leg over the frame of a two-wheel machine and get the errands done. I saw so many older riders with great aging frames, strong spines, ruddy faces, round butts. They put us to shame.
Today I rented a bike in the small town of Doorn, where my new friend has a caravan in a camping site and she plans to live here year round among a couple of other tiny houses, for summer use. She plans a rocket stove, earthen plastered walls, a cob oven out front. The greening of the trailer park. Why not? The nice man who rented the bike to me pulled a map out and looked straight into my eyes and said "Our system for bicycle riders is really good here." His English was otherwise not so great but he had this sentence down, and he wasn't kidding. You cycle by numbers: Following a web of trails through cities and towns and forest lands and dunes and agriculture, and canal crossings, all on these paths that are yes all separated from the cars' roads, all well-marked by a numbered system, frequently signposted and occasionally a large map on a trail head will show the area and several options. You can't get lost as long as you know what number route you are on and a cross-route number. Even then it's difficult to get lost although I did one night in The Hague as I was walking around singing to the record I'm learning for a show when I get home. I lost track, and when I looked up I was nowhere near anything familiar. That's when I finally used my phone's compass, and a few locals who practically took me by the hand and walked me to my hosts' home.
Maybe in a future life I can be Dutch and live a long life on the channeled planes, riding a bike, my hair piled on top of my head. My grandpa Jim's genetic line was called Pennsylvania Dutch but that was a misnomer, we are Swiss. Like the Alps that I'm on my way to hike tomorrow.
*There's a way the Dutch women tie their hair up on their heads, and I have been putting off the blog because I can't find just the right phrase for it, perhaps you can help. Here's the thing: I was having coffee with a friend in Jack London Square a few years ago, and as we took our coffees and went to sit down outside I walked past the counter of milk and sugar, stirrers, sugar alternatives, lids, and napkins. He said "That's so irreverent the way you just pass up the milk and stuff." It was high praise, and an observant compliment. I take my coffee black. I have no truck with the condiments. What's that, insoussiance? Disinterest? It's also the confidence in a perfect result: there is nothing to be done. This is the way the Dutch women pile their hair on their heads: Quickly, dismissively, always with a perfect sexy result, with disregard; they grab it all with a big pin or chopstick or rubber band, but really it's as if that tool has nothing to do with it. Perfect disinterest. Off-handed. Help me out. The opposite of this belabored attempt to find the right word.
The Word for World is Welt
The Jackson-pedia definition of the Schwäbisch Alps in southern Germany is a travelogue of early solo journeys, practicing my high-school German, and learning the ropes of world travel, starting with the Junior Varsity level, western Europe. My time was spent looking around and making friends, but more of me was into drawing, photography, letters to my mom and dad, love letters to boyfriends, cassette tapes, and fiddle playing. It was as though the distance from home opened a valve I hadn't access to before. Lack of distractions, obligations, expectations, and habits allowed me to learn more about myself, cast on the backdrop of a foreign language, which meant illiteracy, or a four-year-old's language skills. This has been so for me still, after 35 countries now, in almost as many years. I sometimes go for the solitude; to find myself.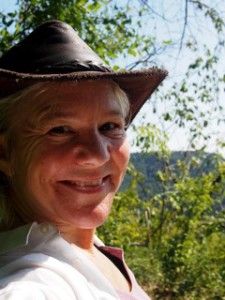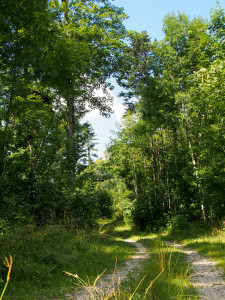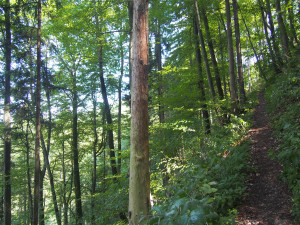 I first came to the Schwäbisch Alps in 1990 to visit my friend Evi with whom I have one of those instant sisterhood recognitions. Love at first sight. We met through a friend when she visited San Francisco. The earthquake had just happened. The Wall had just come down. She invited me out that summer and I came with the same pack I've always carried, and her flat was my HomeBase. From there, I went to Berlin to ride a shitty three-speed bike around the falling wall in its graffiti-peppered transition; and drank coffee at an "Imbiss" street caravan a la "Wings of Desire." I traveled to Munich and Greece and Ireland from Evi's house. Always returning for refueling and some hikes. That first summer, I worked in a tee-shirt silk screening factory, hitch-hiking there every day (nothing improves a foreign language better than hitch-hiking). Albstadt was to me this conservative traditional German region of little beautiful high-end villages that you raced between at 120 k/hour. Then you slowed down to wind through the village of old people, straight-laced people. Whom when you smiled at, pressed their lips together. We'd go out to the pubs in other Albstadt's in the region: Albstadt Tailfingen, Albstadt Ebingen, Hessingen. Each had a character, one had a dark pub, another's pub had three levels, and the music was always loud and the company smokers and Eurohipness. It was the 80's. In one heavy metal bar, I made out with the fully tattooed, Müll (German for Garbage).
That first visit, Evi lived in Albstadt Laufen, in the penthouse apartment of a high-tech company called Microway. I'd get up early and play my fiddle before the workers showed up in the stairway of this five-storey glass-and-steel celebration of German precision, with amazing acoustics. I still have a set of cassettes called "Treppenhaus." And evenings for a bit I washed the stairs for some money. Tall motorcycle-leather-clad guys came by the house and Evi entertained them talking the Schwäbisch dialect, while I took it in like a dog under the table, like an illiterate kid. And I'd write letters home and yes, I'd go on many many MANY walks–with a dog, often–in the woods where Evi lives. Wherever I've traveled, I seek out the trails. A place to find mamma nature, 'cause there I'll always be home. She hasn't failed me yet.
During one autumn visit in the mid-1990's, she put her blue suede chaps on me and we borrowed her then-husband's thoroughbred championship jumping horses without his permission and went out on a ride. We ran though fields free, I followed her on my enormous stallion, trembling and heart-in-mouth. When my feet came loose of the stirrups and we got to a good gallop, I yelled for Palermo to indicate I wasn't as cool as I seemed, and he ran for a low-hanging branch to wipe this bug off his big back, and knowing how to, I dived and rolled, but not without hanging my right ring finger up in the reins. The aftermath was peaceful and hilarious, and there was a pic-nic a few days later with the whole family in the hopes of retrieving my leather glove that was lost in the adventure. There it was, like a confession, hanging up high in a tree, and we snatched it down un-noticed. These memories form a lasting, untroubled, unquestioning freundschaft with Evi. Over the seven times I have been here, four of those times she lived in a different village but always in this region. And my visits would of course involve walks daily, lasting hours in these trail systems.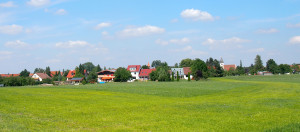 She took me to her father's village, Burgfelden, where her father and grandmother lived. Where she was raised. From where she rebelled and made her travels to Greece, Spain, Turkey, the USA. Her dad was still alive when I first came and we visited his old Swiss Chalet timberframe with the plaster and the steep roof, and it was dark inside, but Evi brought to life for me the atelier of her dad and her grandma that it once was. In the 60's this house was the only one with a TV, so the neighbors all came over for Football Games. It was a public house and gallery in the 50's. Her dad ran it. But when I visited in 1990, it was the smokey and dark home of a humble painter, whose life had become quiet. There were paintings and sculptures on the dark walls. And leaning against furniture. Everywhere. Evi walked me to the edge of the table-top mesa this village of 350 people live in and showed me the village of Balingen below, and talked of her grandmother's history here. That we are both artist's kids has always been a strong point of connection for us.
When her father passed away, Evi bought her sister's share of the 1600's house, and began reviving it as a neighborhood hang-out and art gallery. Today, the Berg Cafe is hopping with Saturday afternoon hikers, about 20 bicycles, spandex clad, healthy, well-read and airblown, drinking beer from glasses big as buckets, talking, smoking, laughing, and eating Evi's traditional potato salad. Night-before-last, the regulars, a pack of soft cotton button-down-clad, gentlemen gathered next to the Kachelofen and visited, played cards, eventually sang songs, rocking me in my attic bedroom. Last night, I joined the mayhem downstairs and played Happy Birthday and other great hits by the likes of Cat Stevens and Simon and Garfunkel on my fiddle. Everyone sang. Once a month or so, there is a live band, or a theater troupe in a house-concert setting with 40 or 50 people. And daily the phone rings with people reserving their place at this rarefied revival in a 1600's house of a 1950's artist's neighborhood hang.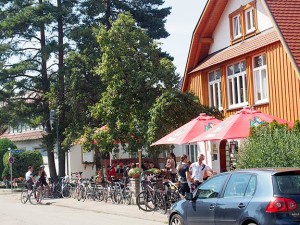 But still, I just thought that my German friend, like me, lived in a town where there was good hiking. I was wrong. The Schwäbisch Alps are a Thing. They are a destination for hikers. If I were a very wealthy hiking enthusiast, this would be a pilgrimage I would eventually make. And I might make a reservation to have a traditional potato salad and wurst in Evi's Berg Cafe. I would show up in a rented Benz or my own Tesla, wearing lightweight wicking reds and oranges, carry a hiking pole or two. The walkman in my fannypack would be replaced by a set of high-quality field glasses, maybe a wild-flower ID book. Or Hawks in Flight. If it weren't for this lucky bitch's fortune I would never be here at all.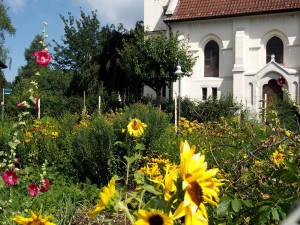 And the hiking. From pavement through to nipple-high grasses, and narrow single-track; from level to ass-burning steep, from a memorial bench painted with Edelweiss to a castle ruins, you can go for miles following carefully planted maps and signage. There are loops for an hour and loops for a day. There are welcoming outlooks onto the other villages below, frequent benches. Old trees that silently say sit here. Outstanding. World class hiking. It's called Traufgänge, and you can visit its website (sorry only in German but maps and awesome photos are universal). www.traufgaenge.de
If you travel to western Europe, take the trails in Albstadt. There is a website you can book your guesthouses and many guesthouses like Zum Berg Cafe.
August 22, 2015, Albstadt Burgfelden, Germany
The Hague, August 9, 2015
Talking to my hosts last night was like walking through a garden, in that the deeper we went, the more flowers we saw, as it became clear who we all were: As we got to know each other. We were sitting very comfortably in a conversation circle, in a comfortable quiet house with a view on the garden, sipping tea. I know I shouldn't name drop (Paul McArtney told me that), but this is my garden, and I love the web people make, and we all have names. I was sharing about my Whole Earth Review and WIRED! past, in answer to why natural building for me. She beamed, she loved WIRED! Cool. Further, deeper … Cool Tools, the Long Now and Brian Eno comes up. They both beam and glance at each other. A small gate through which to peek…He mentions Robert Pirsig's Zen and the Art of Motorcycle Maintenance, and I realize what a great writing gimmick for my whole trip: To tell the story around the art of stove building, mixed with anecdotes and philosophical insights from the road. Can't say I've tried it yet…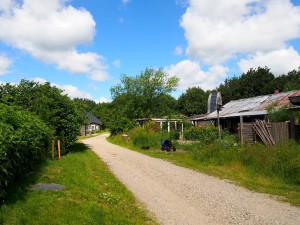 I have been remiss in 'blogging this trip because I have not been inspired to write. I have been inspired, just not to write. That's when I write badly, using dorky verbs like "duck," as in "…then it began to rain, so I ducked into a pub…" and "wandered" and "embarked."
This is not to say that I'm inspired to write today, but there's a need to color in between the lines of my infrequent facebook posts, as though blogging were a requirement of traveling. It will make me happy to have done it, as Virginia Wolf bitched about writing. So here you go, you fine people.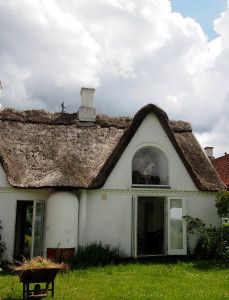 This trip is full of logistics and many, many places, as this is the first time I have ever traveled internationally for work: After a month of helping another guy write a book in Spain, I embarked (sorry) on a Book Tour, in which I present a slide show on Rocket Mass Heaters, sell some books, make some friends, visit some old friends, play some music, and drag a lead brick of paperbacks in a cardboard box in a broken suitcase on broken wheels, as well as my 30-year old backpack and my 200 year-old fiddle in a flax seed case with Wonder Woman stripes glued to both. Each day, I spend some time on research, advertising, and follow-ups; like a tour manager, 'advancing the show,' which means making sure the soundboard has the right nobs, the lights are strung, there's Pale Ale in the dressing room. Little time is spent going "It's raining, so I think I'll duck into the little pub."
The temptation, in order to catch up, as though I have to, is to present a survey of house types, heater types, musical types. I could report on which vertebrae were tweaked out by which guest beds, except all beds have been great. I could list what books on tape I listened to, but it's been the same chapter (8) of Neal Stephensens Solomon's Gold (because I keep falling asleep during it).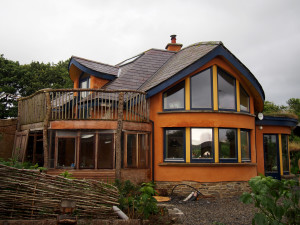 A few favorite statistics include number of times in 89 days that I've had to check into a hotel or B and B: 3.
Of the 16 different homes I have stayed in, 7 grow their own food, and 4 have composting toilets.
House types! Four are natural buildings of either cob or straw bale, or both, all of these have living rooves. One was a 12th c. castle; one has a thatched roof. Only one(!) was cheap new construction, and most are pre-1900 brick and stone with high ceilings and lots of character. Beautiful, brand new owner-designed Passive House with Rocket Stove and butterfly plants: One.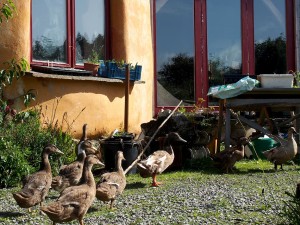 Heater types: Masonry heaters: 4 of 16 homes, and two of those homes had more than one! Rocket Mass Heaters: 2. Two, wood burning stoves, and both of the cookstove type, (the US equivalent is the old Wedgewood stove). You won't see many interior photos because I don't go publishing images inside people's homes without a good purpose…such as what, you ask? Just you wait and see!!!
Of the 16 homes I have visited so far, with some special ones still to come before journey's end, I can say that 100% of my visits with my hosts have been heartfelt, deep and warm connections, ever increasing in familiarity and joy as I go. This will culminate in the arms of one of my best girl pals in Germany, Evi….25 years and going strong. Hurray travel. Hurray lasting friendship. I miss you, those of you I left behind at home in beautiful Oakland, and I look forward to sharing smiles in person again soon.
Peace and Love,
Leslie
Den Haag, August 9, 2015
Catalan the Dotted Lines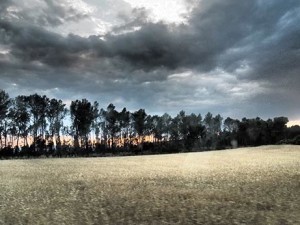 Arriving to a place is like taking a water slide the first time. You're wide-eyed, fascinated; you want to take pictures of the whole way down. But once you have been down it a million times and are exhausted and there's chlorine-water in your nose and ears, you're ready to lay shivering between two towels on the cement, and let your shriveled toes, shredded and fragile from scaling the bottom of the pool, explore the topography of sand in the cement. So it's been, and I wish I could share the strange fascination I had when first entering the castle in Catalunya, my eyes adjusting to the dim light. A 12th century olive oil press was in the corner, yet a pair of volksawgen seats sat in the entrance next to a few boxes of recycling and donation clothes. I wanted to look around on arriving, but it was midnight. Then the 6-month old puppy came downstairs, wiggling like a tadpole, flipped onto her back at my feet and peed on her belly. She would have more fingers toes and shoes to chew for the next month while I worked with her master on a book he'd write. I was shown my room, tile floor, stark, bright, a two foot thick window reveal: Stone walls. An IKEA bed on a few wooden pallets and a small bedside table. A bed frame with many slats, leaning up against one wall would soon become my dryer for sweaty clothes when I came in from walks. We go into the kitchen and the living room and the dining room in one circle and I wonder when I will remember which rooms leads to which. I'm goggle eyed, there's the cookstove I've seen in pictures, there is the masonry heater I hadn't seen yet, there is the living room, just like in the pictures, a former terrace, when this place was a boy's club, run by the bishop. And when it was thousands of other things for the previous hundreds of years. There is a smell of agriculture that reminds me of catshit. Now it will ever remind me of Girona. Pigs, in nearby farms. We sit at a long table in the dining room and chat about everything, from music to marijuana, stoves and their builders to district energy. He's a story teller. I'm letting the dog chew my cowboy boot because this is keeping her from chewing my hands, pant legs, shirtsleeves.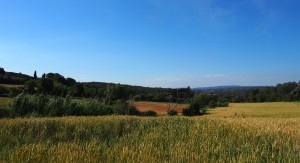 I'm here and I'm of course safe and working hard on a little book: with a man who builds masonry heaters and lives in a castle in Catalunya with his partner, and a puppy dog. His first language is Danish, but he wants the book to be in English, thus more accessible to more readers; and while he hardly needs an English translator, I think he wanted me around to keep him on track with the book in his head that wants written down. We jumped right in to work, abandoning what he had previously written for the immediacy of the witness a writing partner can provide.
[As of writing this a month ago] I have been here in Europe for almost a month now, and it's funny how it's been hard to write postcards home. Usually I am all chatter when I get to a new place. I'm in an incredibly weird place but that's not unusual for me. I think it's that my language has become a broken English 'cause that's what I'm hearing. I have told you that I am too impressionable: I can't even watch a movie or TV without taking on the characters. I want to post photos on Facebook, but even that seems inappropriate: This house/castle, the surrounding Medieval village doesn't want to be broadcast: it's too quiet and personal.
The village is like what Northern California's wine country wishes it was, rolling grassy hills, olive groves, terracotta roofing tiles, terraces. But this shit is Real, and Real Old! The foundation of the building I'm staying in is 12th C. The carving of the date on the lintel over the door says 1649. The roads are paved but very narrow and TIDY! It's dead quiet. I think these are retirement and vacation homes for super-wealthy people. You go out and don't see a soul. The man across the road Guisepe, or Pep, was a surgeon at the Mayo Clinic in Minnesota, but when he retired early (like my own dad), he went back to painting, which he was pretty good at when he was young. Look at his hands, and you'll see signs, as in my father's hands, that everything he touches turns to gold. Now slow and methodical, his English is just good enough for me to find out what a bad-ass he was in medicine, and his paintings bite you in the butt from a knowledge of what's really under the surface, in all ways. When he saw my enthusiasm about art he invited me to help him hang a small show in a city center. Today he and his beautiful young wife host the football game, in which there will be likely more talking about art than slugging weak Spanish beer. It's stunning. A fantasy house.
So it's off to Storage Stoves and Primer's Primers.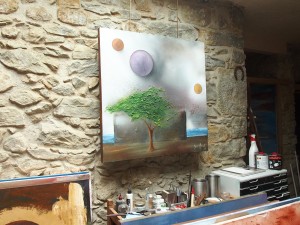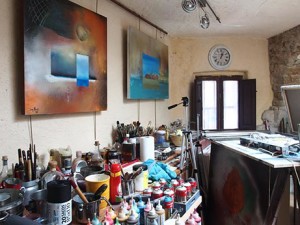 Bangkok Thailand: Mind the Gap Between Train and Platform
Welcome to the first Southeast Asia Episode, in which I experience a hot and humid climate, and celebrate the Beloved chili pepper. This is my second trip to Thailand, and so far my favorite. I'm visiting Leo Fernekes, who has been my friend for as long as I have had the backpack I travel with: 30 years. Both will get their own 'blog topic soon.
Leo and I had a few Skype conversations in the days before my flight. For example,
Me: Should I bring my own motorcycle jacket? My prescription snorkel goggles?
Leo: No, nothing, pack light! You don't need anything here!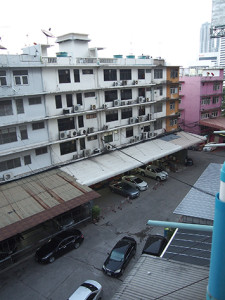 Then there was the April Foolsday Joke I played on him, saying I had cancelled my flight. And then the conversation in which I asked where his building was, and how to get there from the airport. I had an address, but enough travel experience to know that might not mean anything in a city like Bangkok: Do the numbers go in order? Is your postal address the actual address?
Leo: Call me when you land, it's simple but complicated.
Me: That's not fun enough. Give me directions from the nearest subway stop.
The challenge of finding my way, especially in a big city subway system, is one of the thrills of city travel, and makes up for my dislike of big cites, especially smog-strangled, o-zone depleted, air conditioner-infested Bangkok.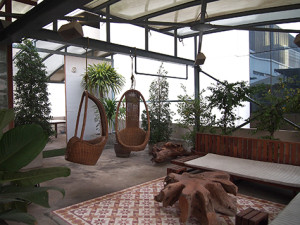 Leo's directions were precise without the many details that can lead to confusion. He told me which train lines to take in which direction, and which door to exit the station from (very important, because this determines which side of the street you're on on when you hit the surface, so you don't have to cross the street aboveground. (And avoiding a street crossing in this place can save a life!) Next, he sent me down a side street with no name next to the battery store and the clinic called MD. By the time I reached the sidestreet and the battery store I was beaming. There was the shiny showroom of Sensacell, as promised, next to a grungy backstage of an auto body shop and a silkscreening/poster printing business. The entrance to the Sensacell showroom was behind a wall of lush tropical container plants that framed the entrance.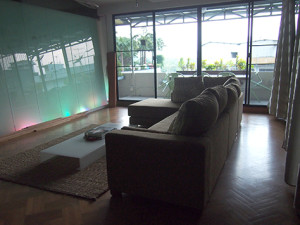 Glass doors, hard-edges, the showroom quiet and lit by magical programmed LED arrays on table-tops, on the floor, hanging on walls. Quietly dancing unobserved in the cool hard space.
Sensacell is an invention of Leo's in which a large flat panel–a wall, a table, or a floor–interacts with you in pre-programmed ways: You wave your hands, you dance, you poke. It responds in patterns of colored lights.
Greeting each other is no different than catching Leo at work in Berkeley in 1983 or New York in 1990 or 2010. This kind of friendship always picks us up where it left us off, regardless of time and distance and we are off to have pepper-infused lunch and coffee in the neighborhood.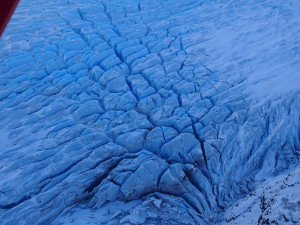 Alaska: A Whole 'Nother Scale
The first port-of-call of a fantasy I am living (a.k.a. a research project I am working on about rocket mass stove builders and their innovations) takes me to the cabin of Lasse Holmes. (He's "Canyon" on the rocket mass heaters forum). He has a homestead on 20 acres in the mountains above Homer, Alaska. Homer's on the Kenai Peninsula.
It's a thrill to be visiting him here. I've travelled to 22 foreign countries, but even though the state of Alaska is part of the US, and I can honestly count 23.
From the moment I transferred to the plane for Anchorage from Salt Lake City, Utah, I knew I was somewhere else. Suddenly I was in a group of people all of whom don't give a fuck about fashion, yet are uniquely expressive people. On the flight, they all seemed to know each other. There was such a din of conversation between companions and strangers alike that you couldn't hear the heavy metal pop over the PA, no nor the emergency preparedness spiel, nor the inflight movie. People are dressed to withstand the temperatures and their activities in those temperatures, cleavage is not an issue. Nor color coordination. Kinda refreshing.
I generalize (and exaggerate) ALL the time: Here's one. The Kenai Peninsula celebrates both wild animal conservation and wild animal exploitation: People are either catching fish or counting fish.
I land at midnight, my host and I spend the night in Anchorage, at friends' and in the morning, he reviews my pack for what clothing I brought. He drags an enormous parka of his mothers from the back of his well-equipped truck and I swallow hard. He's calm, patient, practical, instructive. If you want to get out into the beautiful places, you have to be ready for the conditions. Here's something I wouldn't have thought about: Did you bring anything that can't handle the freezing conditions in the back of the truck? My camera? No. That stays with me anyway, duh. Toiletries: Bottles and vials of liquids, especially in glass: My Korean ginseng. That would have made a big shards-of-glass mess. My laptop? Actually if that heats up slowly to room temp before you turn it on again it should be fine. Things you have to think about. Prepare about. How to enjoy the sweaty (1-mile) snow-shoe hike from the truck to his cabin while the fingers ache with the cold. I read in an outdoor guide's advice on staying warm called Cold Comfort that "poor goose down lofts less than good duck down." (An editor's field day, and my delightful new mantra).
The stove Lasse lives with is almost too scary to show you: I would be most afraid someone seeing this would try it themselves. Lasse is a brewmaster, an inventor, a whiz at welding stainless steel, worldly, a macrobiotic cook, and blues harmonica player. Every horizontal surface of his sturdy timberframe-and-strawbale cabin is crammed with books: almost all of them practical manuals on homesteading, beer brewing, and macrobiotic cooking. His stove fits his own needs for warmth in conditions like winter temps that can dive below 15 degrees F; it can start getting cold enough to fire up the heater from October to April. It may be easier to say he doesn't fire up his stove in July. He needs to cook as well as heat water with wood. His stove fits his abilities too. As a brewer, he has access to lots of stainless steel kegs, and can weld stainless steel, so his building blocks include kegs, beautifully machined stop-cocks, and piping. So much of the art of rocket mass heater building is determined by needs, available materials, and abilities.
Our busy plans to visit several of the rocket mass heaters Lasse has installed around town is peppered with jam sessions with friends, dogsled running, beer brewing, and sharing his volunteer spot spinning jazz records for the local radio station. How Alaska is it around here? Well, on my first night, we were enjoying a local brew in the pub, Down East Saloon, hearing a Portland band and making new friends, when the door-man took the mic and instead of announcing that someone's pick-up lights were on, announced a one year-old moose grazing in the parking lot, so be careful as you go out to your cars. Alaska is on a whole 'nother scale.
March 24, 2013.
Winter-into-Spring, 2013
Now that spring is upon us and the wind doesn't sing through my leaky poor man's craftsman bungalow, the days lengthen, and the sun shines even more, you'd think this Californian would relax back into her favorite ripped-up Blondie tee shirt and enjoy the hiking trails. But instead, I am packing my camera and laptop to head north to Homer, Alaska to taste real winter. Or at least the tail end of it.
From the Spring Equinox to April Fool's Day, I will have my mind blown by Mother Nature's expression in Alaska. "It's on a whole different scale," my friend Ian says. I will be in snow –a rare event for me, I will ride in a dogsled for the first time, enjoy locally brewed beer, and predictably, eat some salmon.
This visit will be the first stop on a series of visits to builders of rocket mass heaters around the world. Since its publication in 2005, the book I helped Ianto Evans write, that started out as a pamphlet called Rocket Stoves to Heat Cob Buildings, has grown into a cottage industry. And much to my surprise and delight. It is now a real paperback with a glossy cover called Rocket Mass Heaters: Fuel-efficient Wood-Burning Stoves YOU Can Build (and snuggle up to). It has been translated into French and Japanese. We are working with translators now who will take it into German and Spanish, and I just heard from an Irishman who offered to translate it into Czech. There are countless YouTube videos—from the absurd to the sublime—documenting these stoves. People are participating in discussion forums all over the world. And there are two Facebook groups, with over a thousand members between them. How did this happen?
The rocket mass heater is a make-it-yourself wood-burning device, based on the principles of the rocket stove, which because of its geometry and materials burns bio mass really efficiently. The rocket mass heater takes the heat so efficiently produced and stores it in thermal mass—in most cases, cob—benches and beds. These stoves are for human comfort. You sit and lie down on them. They're for tinkers, inventors, and people in love with fire. I've been assuming we had an underground audience, but at least 30,000 copies are in circulation. That's a lot of underground to cover! Who are these people? I want to meet them all.
While I hustle on the third edition of Rocket Mass Heaters with Ianto, I am simultaneously curious about who is out there building—and improving—these stoves. So off I go, with my Olympus OM-D5 and MacBook Pro in search of stovers. I'll keep you posted!
Please visit Rocket Stoves for more stove stuff.
To further keep me in (dancing) shoes, I have posted a few additional books for sale (at left) by friends of mine in the natural building vein…As someone aptly said recently: "Build it yourself, build it small, occupy it."
Here is a recent email response to a question that you, too, may have about how to get into natural building as a career: Natural Building.
Please visit Jack's Picks for some local things I'm excited about. There's something sweet and something sexy!
The Turtle House images are back up! A back-yard remodel of a sea creature. An Adventure.
For a more info, email me.
This page was last modified on Monday, April 21, 2014.